19th Century Scenes
In and Around Montgomery, Alabama
THE CITY OF MONTGOMERY, ALABAMA, SHOWING THE STATE HOUSE
WHERE THE CONGRESS OF THE SOUTHERN CONFEDERACY MEETS ON FEBRUARY 4, 1861
.

In February 1861, Montgomery had 8,843 people (4,443 whites and 4,400 blacks, slave and free).
Alabama State Capitol
Plantation field slaves working the cotton fields near Montgomery under the direction of an overseer
The cramped quarters of a slave ship
A slave auction in Montgomery.
A slave woman and daughter of Montgomery, Alabama
A light skinned mulatto slave girl.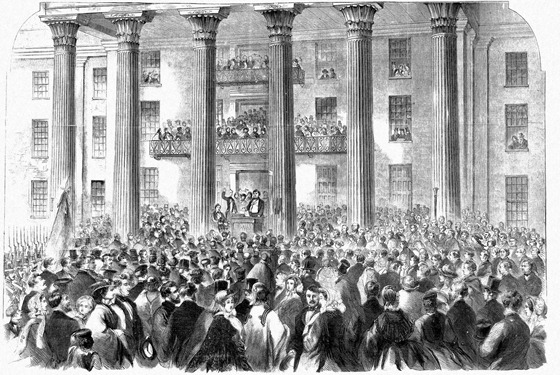 Inauguration of Jefferson Davis, President of the Southern Confederacy, at Montgomery, Ala., on Monday Feb 18, 1861.

Provisional Confederate Senate Meeting in Montgomery, Alabama
A young female house slave and her white mistress
Slaves loading cotton bales onto flatboats and steamboats on the Alabama River.
Slaves operating a cotton gin
Scene of Union Troops arriving at a southern plantation
Perry Avenue in Montgomery - Photo above taken about 1900.
William Lowndes Yancey had his town home on Perry Street.