The Last Will and Testament of Katherine Nanny alias Naylor
wife of Robert Nanny (1614-1663) and later Edward Naylor
[ based on a transcript provided by Chris Finney ]
Katherine was the daughter of the Reverend John Wheelwright and wife Mary Hutchinson
There is much written and compiled about the Wheelwright and Hutchinson families

In the name of God, Amen, the first day of May in the year of our Lord 1700, I, Katherine Nanny alias Naylor, now resident in Charlestown in his Majesty's Province of the Massachusetts Bay in New England being of good and perfect memory thanks be to the almighty God, although weak in body and calling to mind the uncertainty of this transitory life and that all flesh must yield unto death when it shall please God to call, do make, constitute, ordain and declare this my last will and testament in manner and form following, making & annulling by these [ ?? ] all other will, wills or testaments heretofore by me made & declared either by record or writing.

Imprimis: I give and commit my soul unto almighty God, my Savior & dear Redeemer in whom by the merits of Jesus Christ alone I trust assuredly to be saved & my body to be buried in such place when it shall please my Executor hereafter named to appoint.

And now for the settling of my estate & such goods, chattels & debts as the Lord hath bestowed upon me I do order, give & dispose the same in manner and form following:

Firstly, all my just debts & duties be timely satisfied & paid or ordered to be paid within convenient time after my decease by my Executor hereafter named.

Item, I give unto my two daughters Tabatha Peak at Cape Cod & Lidia Amee at Boston, both in his Majesty's Province of the Massachusetts Bay in New England one third part of all of tenement housing & land lying & being situated in Boston in his Majesty's Province aforesaid which my husband [Robert] Nanny gave me by his will & left me in possession of and which is not yet sold and when so ever there shall be sale made of it then one third part of the money which it is sold shall be paid unto my two daughters above named & equally divided between them for their own [ ?? ] good and benefit, at such time as my Executor shall deem most needful and when it shall please God to take away by death either of them, my daughters above named, what they shall leave , then surviving children shall enjoy .

Item - I give unto my two daughters all my wearing apparel, whether it be woolen or linen, likewise I give to them all my bedding and household stuff to be equally divided between them, my two daughters Tabatha & Lydia - above named. Also I give unto my two daughters one third part of all such debts or debt which is justly due to me from any person or persons whatsoever to be equally divided between them my two daughters above named.

In case there be abt part of the estate thus given as aforesaid & left or remaining after my daughters decease or any one of them - it is my will the children or child of the Mother or mothers decd. should enjoy & possess the same equally divided between them.

Item - I give unto the wife of Jonathan Cary of Charlestown in his Majesty's Province [ ?? ] when I now am resident one pewter flagon, one brass chafing dish, & one silver wine cup provided I decease in his house. If I do not then only the Silver Cup to be hers.

Further I make, constitute & appoint the aforesaid Jonathan Cary my trusted & well beloved friend Executor of this my last will & Testament.

It witness whereof I have hereunto set my hand & seal the day & year above named

The mark K. N.
Katherine Naylor and a seal
signed sealed & declared to be the last will & testament of me Katherine Nanny alias Naylor in the presence of John Rand, Joseph Phipps, John Whitemore

. . . 7th March 1715 Mr. Jonathan Cary the Executor in this will named presented the same for probate & John Rand & Joseph Phipps present (the other witness being deceased) & duly sworn, testify of [ ?? ] the said said Katherine Nanny alias Naylor sign & seal & [heard?] her publish this instrument to be her last will and that she was of sound mind & they set thereto their names as witnesses in her presence and the said Executor undertook his said office [ ?? ] and this will is proved & approved & the administration thereof is committed to Mr. Jonathan Cary as aforesaid and he shall exhibit or render an account as the law requires of . . .
---
Some Items mentioned in the will:
CHAFING DISH
Artist Diego Velázquez portrayed an old woman poaching eggs in a glazed earthenware chafing dish over charcoal.
A chafing dish (from the French chauffer, "to make warm") is a kind of portable grate raised on a tripod, originally
heated with charcoal in a brazier, and used for foods that require gentle cooking, away from the "fierce" heat of direct flames
PEWTER FLAGON

A flagon is a large leather, metal or ceramic vessel, commonly a pitcher, often used for drink, whether this be water, ale, or something else.
SILVER CUP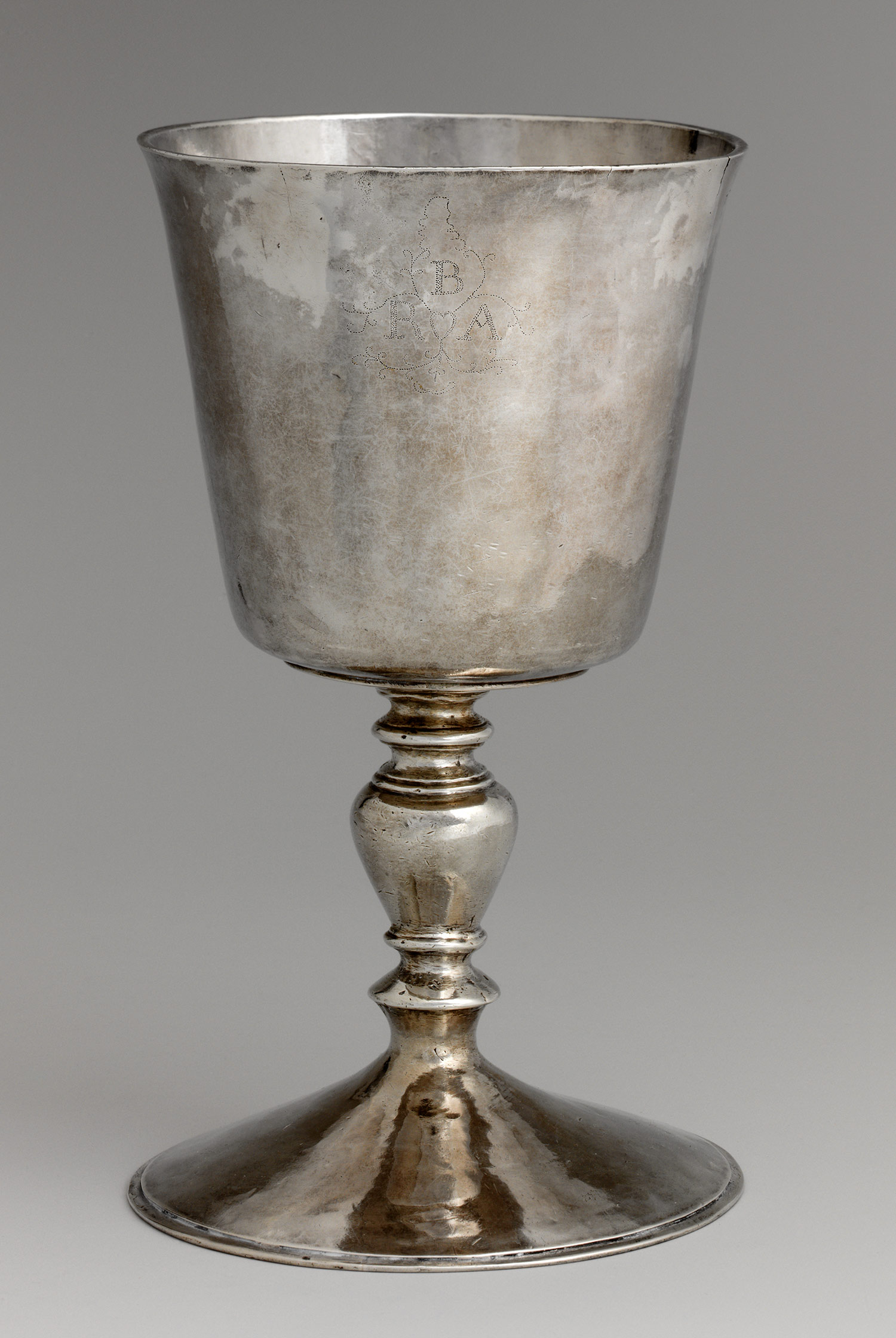 an example of a silver cup from the era.
Remember that the famous Paul Revere was a Silversmith of Boston at the time of the Revolutionary War
---
Katherine's Father the Reverend John Wheelwright
Information about his life
Katherine's Aunt - Ann Hutchinson
one of the more famous and controversial Puritan Women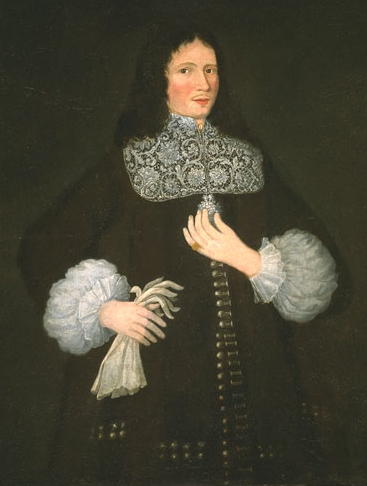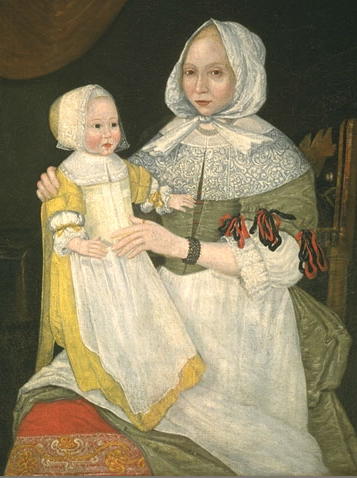 Although we do not know what Katherine Nanny Naylor looked like
- we do actually have some images of people she knew
John Freke and his wife Mary (Clarke) Freke and their daughter Mary, of Boston, Massachusetts.
Neighbors of Katherine Nanny Naylor
These paintings help show the dress of the period
Information about the Freke Family

A map showing the location of the Robert / Katherine Nanny property
where the famous "privy" was located that was dug up in the 1990's
Note Charlestown where Katherine lived between 1700 and 1716 with the Cary family
and later died is just North of Boston where, in Boston, Katherine lived most of her life.