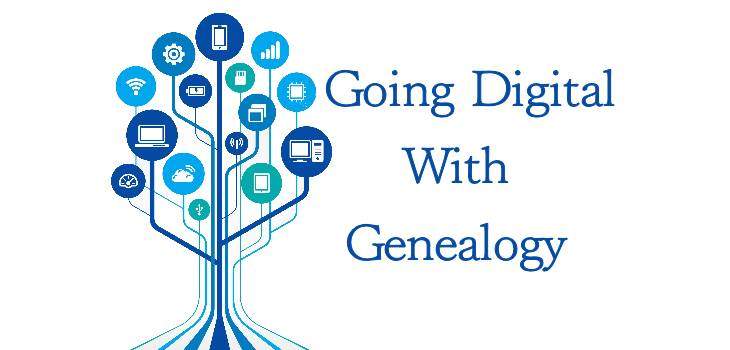 PROS and CONS of PRINTING of PHYSICAL BOOKS versus DIGITAL
(with the focus of books of a genealogical nature)
. . . Some Thoughts . .
And some links to various other options we have in our Internet based world
PHYSICAL BOOKS

PROS
TANGIBLE
NOT EASILY LOST OR DESTROYED
WILL STILL BE ON YOUR BOOKSHELF – 20 YEARS LATER – (UNLESS YOUR HOUSE BURNS DOWN)
CONS
COST OF PRINTING
IN THE DAYS BEFORE DIGITAL PRINTING – THE MANUAL LABOR INTENSIVE PRINTING PROCESS INTRODUCED A LARGE NUMBER OF ERRORS INTO THE PRINTED VOLUME TO THE HORROR OF GENEALOGISTS . (NO LONGER THE CASE)
THE BOOK IS OUTDATED BEFORE IT HITS THE PRESS (NOTE GENEALOGY INFO IS HIGHLY DYNAMIC AND NEVER COMPLETE)
NO AUTOMATED WAY OF FINDING KEY WORDS IN THE BOOK
IN MANY CASES ONLY THOSE WHO HAVE PAID FOR A COPY OF THE BOOK CAN ACCESS THE INFO IN THE BOOK
NO QUICK AND EASY WAY TO MAKE AND SHARE A COPY OF THE BOOK
(IF YOU RUN OUT OF BOOK COPIES – WHAT DO YOU DO, IF PEOPLE STILL WANT MORE?)
WHAT IF YOUR PRINTER HAS GONE OUT OF BUSINESS?
IF YOU ARE MADE AWARE OF AN ERROR IN THE BOOK – WHAT DO YOU DO TO FIX IT? IF YOU WANT TO DISTRIBUTE ADDENDUMS – HOW BEST TO DO IT?
OVER A VERY LONG TIME – THE BOOK WILL FADE, DISCOLOR AND AGE.
DIGITAL VERSION OF A BOOK
PROS
NO COST OF PRINTING
VIRTUALLY NO COST OF DISTRIBUTING
SHARING A COPY OF THE BOOK – CAN USUALLY BE DONE WITH VIRTUALLY NO COST AND LITTLE EFFORT
COPIES OF THE BOOK – ARE 100% PERFECTLY ACCURATE TO THE ORIGNAL – NO DEGRADATION IN THE COPY PROCESS
ELECTRONIC KEY WORD SEARCHES CAN FIND WORDS OR PHRASES IN THE TEXT ALMOST IMMEDIATELY.
THERE IS NO "RUNING OUT OF COPIES"
ERRORS IN THE BOOK CAN BE CORRECTED AND CORRECTED COPY EASILY SENT OUT TO DESIRED RECIPIENTS WITH LITTLE EFFORT. SAME THING AS TO ADDENDUMS
NO NEED FOR MAINTAINING A LARGE INVENTORY
A NEARLY INFINITELY SMALL "FOOTPRINT" (microchips, the size of a fingernail can store digital copies of millions of different charts, photos, documents)
IF THE "KEEPER" OF THE DIIGTAL BOOK TAKES ACTION TO BACKUP TEHEIR COPY AND TRANSFER TO NEW MEDIA AS NECESSARY – THERE IS NO REASON THEY CANT HAVE A PERFECT COPY OF THE BOOK FOR THEIR ENTIRE LIFE – AND THEIR DESCENDANTS BEYOND THEIR DEATH.
CONS
MANY PEOPLE PERCEIVE THE FACT THAT A DIGITAL BOOK IS NOT TANGIBLE AS A CON. (THOUGH PROBABLY JUST BECAUSE THAT'S WHAT THEY ARE USED TO)
THERE IS SOMETHING TO "TURNING THE PAGES" THAT JUST SEEMS NICE . . . BUT WITH NO PHYSICAL PAGE ITS NOT QUITE THE SAME. . .
IF A PERSON ONLY HAS ONE COPY OF THEIR DIGITAL BOOK – SUCH A COPY CAN GO FROM EXISTING TO NON EXISTING IN A SPLIT SECOND – IF THE OWNER DOESN'T TAKE NECESSARY PRECAUTIONS
PEOPLE (ESPECIALLY THE LESS TECHNCIAL FOLKS) MAY NOT DO WHAT IS NECESSARY TO ENSURE THAT THEY DON'T LOSE A COPY OF THEIR DIGITAL INFORMATION. – AND THUS LOSE THEIR DIGITAL COPY
PEOPLE OFTEN IGNORE THE NECESSITY OF ARCHIVAL DIGTIAL COPIES AND THINGS LIKE INTERNET STORAGE TO ENSURE THEY DON'T LOSE THEIR COPIES. – AND THUS LOSE THEIR COPIES
PEOPLE OFTEN IGNORE THE NEED TO UPDATE AND/OR TRANSFER THE DATA TO NEW MEDIA AS NEEDED – SO THAT OVER THE LONG TERM – THEY END UP LOSING THEIR DATA
A DIGITAL OF THE BOOK COPY ON A WEB SITE OR OTHER INTERNET BASED FACILITY
PROS
THE DIGTIAL COPY CAN BE ACCESSES VIRTUALLY ANYWHERE IN THE WORLD – FOR VIRTUALLY FREE (ASSUMING THE PERSON HAS ACCESS TO THE INTERNET)
PEOPLE REALLY DON'T NEED TO "DOWNLOAD" THEIR OWN PERSONAL COPY. THEY CAN SIMPLKY ACCESS THE WEB PAGE WHENEVER THEY WANT TO READ / REVIEW THE BOOK
BECAUSE OF THE PRIOR POINT – YOU CAN KEEP YOUR BOOK AS UP TO DATE AS YOU WISH – AND ANYONE IN THE ENTIRE WORLD – SEES YOUR MOST RECENT COPY
YOU DON'T HAVE TO BE RESTRICTED TO THE TRADIITONAL FORMAT OF A BOOK. IT CAN BE BROKEN UP AS PHOTOS, DOCUMENTS, IMAGES, CHARTS ETC. – ALL INDEPENDENT OF EACH OTHER ON A WEB SITE.
CONS
REQUIRES TECHNICAL KNOW HOW
IF YOUR BOOK HAS INFORMATION ON LIVING INDIIVDUALS – HAVING SUCH INFORMATION SO FREELY AVAILABLE ON THE INTERNET MAY BE AN IDENTITY THEFT CONCERN.
PEOPLE ARE ABLE TO EASILY COPY AND RE-DISTRIBUTE YOUR BOOK OR PARTS THEREOF – WITHOUT YOUR EXPRESS PERMISSION. (THOUGH THAT DOESN'T MEAN THEY WILL DO THAT – IN THE WORLD OF GENEALOGY THIS IS OFTEN OVER-HYPED ) - -








NOTE THAT IT SHOULD NOT BE PERCEIVED THAT ONE HAS TO CHOOSE BETWEEN THESE THREE OPTIONS. RATHER IT WOULD MAKE SENSE THAT A PERSON COULD TAKE ADVANTAGE OF ALL THREE OPTIONS ACCORDING TO THEIR NEEDS. AND IN REALITY OUR INFORMATION WORLD TODAY - ALLOWS FOR A MULTIUUDE OF OPTIONS.
ALSO NOTE - IN TODAYS WORLD BOOK PRINTING IS DONE VIA AN ORIGINAL DIGITAL COPY – SO EVEN IF YOU ARE PRINTING A BOOK – YOU WOULD ALSO NORMALLY HAVE A DIGITIAL COPY. BUT THE PHYSICAL PRINTING SHOULD BE SEEN AS AN OPTION – NOT AS A REQUIREMENT.






OTHER THINGS TO CONSIDER

DIGITAL GENEALOGY - A DOUBLE EDGED SWORD

ANCESTRY.COM
BLOGGING
FAMILYSEARCH
FAMILY TREE MAKER (FTM) - creating book with
GEDCOM - sharing data
GOOGLE DOCS
KINDLE
LULU.COM
FACEBOOK
ROOTSWEB
ON DEMAND BOOK PRINTING
SOCIAL MEDIA
SNAPFISH
SHUTTERFLY
TNG SITE BUILDING